Adrien Després
1944 - 2023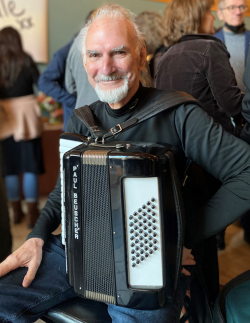 Service Information
Service Date
Friday, November 24, 2023
Service Time
14h00 / 2 pm
Service Location
La Station Workspace 232 Botsford Street, 2nd floor
Make A Donation
Send A Condolence
Print Obituary
Cocagne's Adrien Després, a beloved storyteller, community builder and family man, lifted anchor on November 17th, 2023 at the age of 79, surrounded by his family after a valiant battle with cancer. Born in 1944 to Marguerite (Gauvin) and Léonard à Philibert à Thomas à Urbain à Charlemagne à Jean-Baptiste Després, his life was a rich tapestry of passion and resilience.
Adrien leaves a legacy of community spirit and camaraderie, his journey through life as colourful as his stories… and tall tales. A true connector of people, he was cherished for his engaging personality, wit, charm, humour, and joie de vivre. Playing life "by the ear," he was a true embodiment of the "Si Cocagne veut, Cocagne peut" spirit. His life was full of deep connections and impactful contributions, leaving a lasting impression on all who knew him.
After classical studies at College Saint-Joseph, he became a distributor (for Capitol Records, then MusicStop, Wynn's Oil, and Wynn's Warranties), and ventured into education and publishing. His adventurous character was evident in his racing pursuits, reflecting his zeal for life's extremes. He was a key driving force behind the Cocagne International Hydroplane Regatta and the Bazaar de Cocagne, testaments to his innovative and grandiose heart. He also co-founded Shaïda, Cocagne's liturgical youth band, blending his passions for music and faith.
An avid sailor and musician, his legacy lives on through his beloved family: his companion Janet Doble; his siblings Annette (Pierre Raymond) and Robert "Horton" (Norma Nowlan); his children Natasha, Sébastien (Heather Wright), Joanie (Michael Lee), and Mylène (Dominique Gaudet); their mother Donia LeClair; his grandchildren Claire, Amélie, Évangéline, Alice, Penny, and Lucian; as well as those he lovingly "adopted" as his own through the years.
This Friday (November 24th, 2023) at 2:00pm, we won't say goodbye - we're throwing a kitchen party in true Adrien style at La Station Workspace (232 Botsford Street, 2nd floor). It'll be a jam session, a storytelling circle, and a toast to a life well-lived. Bring your instruments, your best Adrien stories, and let's give him the send-off he'd have loved. The party starts at 2pm and will continue into the night. Instead of flowers, the family requests donations to establish the Adrien Després Memorial Grant, to be awarded to an emerging artist, a continuation of his legacy of promoting the arts. Donations can be made in his name at the Aberdeen Cultural Center, at Frenette Funeral Home, or in person during his Celebration of Life Kitchen Party.
Cremation and funeral arrangements are under the direction of Frenette Funeral and Cremation Centre, Shediac (506 532-3297).
Words of comfort and online condolences may be forwarded through our website at: www.frenettefuneralhome.com