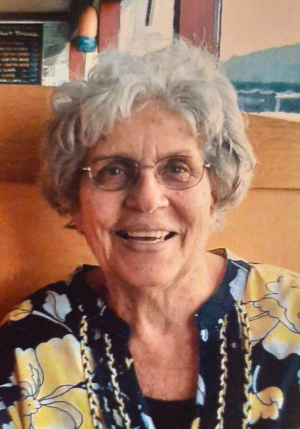 Visitation Information
Visitation
No visitation / Pas de funérailles
Service Information
Service Time
No funeral service / Pas de funérailles
Make A Donation
Send A Condolence
Print Obituary
It is with heavy hearts that we announce the passing of our cherished mother, grandmother, big sister, best friend, and beloved Sylvia Roy, daughter of the late Antoine & Emilie (née Cormier) Melanson.
Born at her home on St. George St. in Moncton, from the beginning Sylvia was a strong, smart, and compassionate supporter of everyone she loved. Channelling Doris Day's style, she would turn heads around town with her sharp dress and beauty, inside and out. She excelled at Collège Notre-Dame d'Acadie, later going on to enjoy a prolific career as an Executive Assistant at the CBC, where she was the 'glue' of the office, making many lifelong friends.
In a love story that reads just like the Hollywood movies she used to adore, Sylvia met the love of her life, Norman Roy, one summer's day at the baseball field after he hit a foul ball directly onto her head. Embarrassed but instantly smitten, with opportunity in hand and a bit of courage, Norman asked her on a date and the rest was history. Together they created a beautiful life full of family and love.
Sylvia adored her family. She never missed a birthday, anniversary, or special day, and her thoughtful cards will sorely be missed by all who were lucky enough to receive them. Many celebrations and holidays were spent at their "big castle on a hill," eating family dinners, playing board games, and laughing late into the night. Summer days were spent at the beach together and eating lobster on the patio. Afternoons were spent watching curling, baseball, football, or even "soaps" in the den. Their sunflower-filled home was open to all, with many family and friends living and staying there throughout the years.
Sylvia was a pillar of love. Her smile lit up a room, and if you were in her circle, you knew how blessed you were. With unparalleled generosity, she would routinely treat her family and friends with thoughtful gifts or experiences. In one of her final acts of goodwill, she snuck Halloween candy into the Moncton Hospital, leaving it on the hall table as an anonymous gesture of thanks to the caring doctors, nurses, and staff who meant so much to her in her final days.
Sylvia is survived by people who all loved her dearly, including four daughters: Jocelyne (Claude) of Moncton, NB, Gisele of Saint John, NB, Lisa White (Peter) of Quispamsis, NB, and their "baby girl" Monique of Moncton, NB; five siblings: Ronnie (Juliette) of Bathurst, NB, Toni (Allen) of Halifax, NS, Rhealdine of Fredericton, NB, Karen of Summerside, PE, and Tony (Judy) of Shediac, NB; six grandchildren: Michelle (Phil) of Ottawa, ON, Leslie (Erik) of Thunder Bay, ON, Colin of Red Deer, AB, Jason of Moncton, NB, Sam of Fredericton, NB, and Ben of Charlottetown, PE; three great-grandchildren: Henry, Ella and Hazel; and several treasured nieces, nephews, cousins and friends.
Sylvia was predeceased by her beloved husband, Norman, who passed away suddenly on August 1st, 2023. It now holds true in both life and death that these two lovebirds were never meant to be too far apart.
Sylvia, Mom, Mémère, the family and our world revolved around you; us just lucky to be in your orbit. We will never forget the joy of hearing your amazing laugh, the ultimate warmth and safety of being wrapped in your incredible (greatest of all time) embrace, and the innate ability you had to make each of us feel uniquely special and loved. Gone from our sight but forever present in our hearts, "we love you more".
In accordance to her wishes, there will be no visitation and no funeral service. Arrangements are in the professional care of Frenette Funeral and Cremation Centre, Moncton (506-858-1900).
Words of comfort may be made at www.frenettefuneralhome.com