Raymond ''Ray'' Burke
1927 - 2023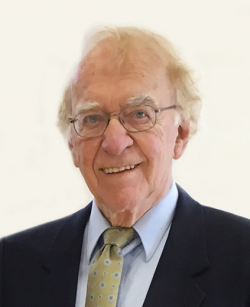 Visitation Information
Visitation Location
No visitation / Pas de visites
Service Information
Service Date
Monday, November 20, 2023
Service Location
Centre funéraire Frenette Funeral Centre, 88 rue Church Street, Moncton
Requested Charity
Extra Mural Program, Friends of The Moncton Hospital Foundation or charity of your choice
Make A Donation
Send A Condolence
Print Obituary
Ray, a native of Moncton N.B., passed away on October 29, 2023 at the age of 96 with his beloved wife Gisèle by his side. Gisèle said that to the very end, Ray kept his sense of humor, his independent spirit, a keen interest in the news, and an enduring love of family, friends, and community.
Ray had a very lively and busy lifetime agreeing with the phrase "Variety is the spice of life". Even as his eventful life was drawing to an end, Ray kept looking forward to new experiences. He felt very blessed to have had a long and active life. Despite his recent health issues, he would say "Who am I to complain when there are so many others with more troubles". His optimism was part of his outlook on life.
During his varied career, he was an engineer, a businessman, a stockbroker, an underground miner, a radio and television host, and a newspaper editor and publisher. His passion was journalism, and he became an accomplished newsman. In his early career he worked in radio, was the general manager of the Northern Light newspaper, and helped to found the Bathurst Tribune and Tribune Chaleur. He also wrote articles for the Moncton Times and the Saint John Telegraph.
He may be most remembered for his long tenure as the news director at CKBC radio in Bathurst, with his remarkable baritone informing listeners of the news events of the day. Upon retirement to New Maryland in the mid-nineties, he continued to follow his journalistic passion by working with the local New Maryland paper interviewing interesting people in the community.
Ray took his journalistic role to heart with great pride and professionalism. He saw himself as a fair and impartial news reporter able to engage anyone on any topic. He gained prominence for interviewing major newsmakers who visited N.B. and several Canadian prime ministers, including John Diefenbaker whom he determinedly tracked to a N.B. fishing lodge to secure a major news exclusive.
Ray pursued numerous hobbies and activities. He was an amateur radio hobbyist, built and flew radio-controlled airplanes, a square dance caller, a pilot, a musician, and a boat builder. He enjoyed travelling, mountain climbing, windsurfing, and winemaking, and championed the development of a cross-country ski park for the community to have a healthy fun winter activity. He liked crossword puzzles, reading, playing cards, and took great pleasure in hosting friends and relatives, entertaining them with his countless stories. He loved animals and had many cats, dogs, birds and even a pet skunk "Stinky".
His varied career and interests took him from Moncton to Saint Xavier University in N.S. to the other side of Canada working Vancouver, Kitimat, and New Westminster, then on to San Francisco and crossing the continent once again to study at NYU in New York City. Upon returning to his roots in New Brunswick, Ray settled in Bathurst where he became the loving father of five daughters and three sons. He and his cherished wife of 42 years, Gisèle, settled in New Maryland and after many happy years, they left in 2020 to return to Moncton. This move brought back many great childhood memories for Ray with frequent visits to the Pointe-du-Chêne wharf where he had learned to swim as a child, and to the beautiful east coast beaches.
He is survived by his wife, Gisèle McCaie-Burke; his six children: Elisabeth (Gregory Smith), Julieanne (late Lance Sloman), James, Marya (Bob Hudson), Martina (Bruce Gilham), and Rava; his seven grandchildren: Connor Sloman (Ashley), Aidan Sloman (Megan), Teghan Nightengale (Anabella), Liam Nightengale, Malcolm Burke (Lauren), Meghan Hudson (Morgan), and Veronika Burke, and his great-granddaughter, Scarlett Sloman. Others who mourn him include several sisters-in-law and brothers-in-law, nieces and nephews, goddaughters, Andrea Melanson (Marc) and Sally Chamberlain-Duguay (Phil), extended family including Linda Belanger (Martin), and many friends.
Ray is predeceased by two of his children: his infant son Rodger and his son Stephen; by his parents, Arthur Bourque and Catherine Breau; his brothers: Ronald and Norman; and by the mother of his children, Francesca Beehler.
The family would like to thank doctors, nurses and support staff at The Moncton Hospital and at the Extra-Mural program - Driscoll unit for their exceptional care, and to Dr. Jules Melanson, his family physician.
A memorial service celebrating Ray's life will be held on Monday November 20, 2023 at Frenette Funeral Home and Cremation Centre, 88 Church Street, Moncton (506-858-1900) with the ceremony starting at 2:00 pm. The celebration of life will be streamed live; to view the funeral, go to her obituary on Frenette Website. Interment will be at Our Lady of Calvary cemetery in Dieppe.
For those who wish to honor Ray's memory, donations can be made to the Extra Mural Program, the Friends of The Moncton Hospital Foundation or a charity of your choice.
Words of comfort and donations may be made at www.frenettefuneralhome.com