Markku S. Erkvaara
1949 - 2023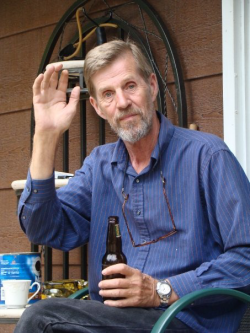 Visitation Information
Visitation
No visitation / Pas de visites
Service Information
Service Time
No funeral service / Pas de funérailles
Requested Charity
Donor's Choice / Choix du donneur
Send A Condolence
Print Obituary
It is with very heavy hearts that we announce the sudden and unexpected death of Markku Simeon Erkvaara, 74, of Moncton, on Sunday August 20, 2023 at the Dr. Georges-L.-Dumont UHC, after a brief illness from which he had seemed to be recovering. Born in Turku, Finland, he was the son of the late Salomon and Helmi (Susi) Erkvaara, proud Finnish Karelians who had been displaced during the Winter War from their ancestral homeland at Metsäpirtti, on the shores of Lake Laatokka (Salomon served for five years on the front lines of the conflict).
Between Turku and Moncton, Markku saw so much of the world. He grew up on a farm in Lokalahti, completed his military service with pride, training as an aircraft mechanic. This led him into a career with Finnair, which kick-started his world traveling, eventually bringing him to Edmonton, Alberta, where he married and started his family, was active with the Finnish Society, and played competitive soccer and hockey until a knee injury forced him to put those passions aside. He retrained as a steel fabricator and pipe fitter, moving from Edmonton to Uusikaupunki, then to Ottawa and Cornwall, where he eventually retired from Domtar, having worked as a foreman and a health and safety supervisor for many years. In retirement, he moved to Moncton so he could be closer to his adult children. He put his supervisory skills to good use in his new community, working part-time as Team Lead for the non-profit, Moncton Headstart Recycles.
He was a devoted father who was always there for his family, through many challenges, with a quiet but steady presence and with words of advice and encouragement. When he fully retired, he devoted himself to his new role as a grandfather. "Pappa" always had time for his girls. We will remember him for his dry sense of humor and questionable card-counting skills.
He is survived by his three children: Greg (Shannon) in Halifax, Mellanie (Jeff) in New Albany, and Stephanie (Chris) in Moncton; grandchildren: Skyler, Piper, Harper, Beanie, Suvi, and Sanna, as well as Katie, Jeffrey, and Sam; his sister, Sirpa (Markku), along with his niece and nephew, Päivi and Timo, in Uusikaupunki.
According to Markku's wishes, there will be no ceremony, but there will be lots of love and memories shared as his kids and grandkids spend time together in his honour. In memory of Markku, we welcome any stories, pictures, and other memories you could share with his children and grandchildren, who still had so much to learn from him. Memorial donations can be made to a local charity of your choice. Funeral arrangements are in the professional care of Frenette Funeral and Cremation Centre, Moncton, New Brunswick (506-858-1900).
Words of comfort may be shared at www.frenettefuneralhome.com