Kathy Mallery-Cullen
1964 - 2023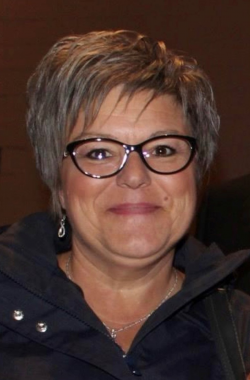 Visitation Information
Visitation Location
pas d'heure de visite / no visiting hours
Service Information
Service Location
pas de service funéraire / no funeral services
Requested Charity
Fondation CHU Dumont Foundation (oncology/oncologie) / L'Arbre de l'espoir - Tree of Life
Send A Condolence
Print Obituary
Share
It is with immense sadness that we announce the passing of Kathy Mallery-Cullen after a courageous 10-year battle with Cancer.
The people closest to her, would describe her as a selfless, hardworking, and strong woman. Even when faced with the most difficult challenges, she continued to put her family's needs above her own. She was a fierce protector of her family and always able to find sunshine on a cloudy day. Her positive mindset and determination were admired by all who had the privilege of knowing her.
Kathy and Lorne were together 38 years (married 31 years) and built a life they could be proud of. Kathy was most proud of her role as a mother, and she was born with the qualities necessary to be the best one. She loved and supported her children unconditionally and was always just a phone call away. She pushed them to challenge themselves, value family and hard work and most importantly to be kind human beings. She was also an incredible Memere to her sweet grandchildren and took every opportunity to tell them she loved them.
As the pillar of her family, she leaves a void that will never be filled, but she has most definitely left this world better than it was before.
Kathy leaves behind her devoted husband, Lorne; her pride and joy- her children Kayla (Mario) and Sullivan (Shanny); her sweet grandchildren: Lexie, Knox, and Bryson, as well as her mother and role model, Mary; her siblings: William, Julia (Bernard), Arthur (Shelley), Brian (Debbie), her best friend/sister Marie, her many nieces, nephews, great nieces, and great nephews that she adored. She is predeceased by her father, Hazen Mallery, her sister, Marianne Duguay, her stepfather, Valerie Melanson, and her sister-in-law, Lilianne Mallery.
A heartfelt thank you to Dr. Abdelsalam, Oncologist, Dr. Genevieve Martin, Family Physician, Trina Hynes, Research Coordinator, the incredible team of nurses, volunteers and care providers at the Dr. Rubin L. Sheldon Oncology Treatment Centre, the pharmacy team at Jean Coutu Cap-Pele as well as the nurses, doctors and care providers of the Moncton Hospital and CHU Dumont who have always made Kathy and her family feel supported and safe in this difficult journey. Your kindness, compassion and professionalism has not gone unnoticed - you are angels on earth.
The family kindly asks that you consider making a donation in Kathy's memory to the Friends of the Moncton Hospital for Cancer treatment and research or l'Arbre de l'Espoir.
As per her wishes, there will not be a funeral service; however, her family and friends are invited to celebrate her incredible life.
Cremation and funeral arrangements are under the direction of Frenette Funeral and Cremation Centre, Shediac (532-3297).
Words of comfort and online condolences may be forwarded through our website at: www.frenettefuneralhome.com