Ghislaine Arsenault
1936 - 2023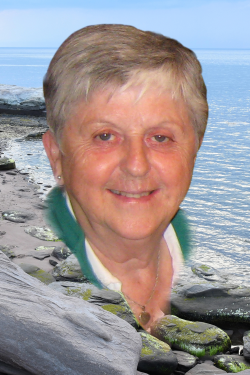 Visitation Information
Visitation
Pas de visites / No visitation
Service Information
Service Date
Friday, January 20, 2023
Service Time
10h30 / 10:30 am
Service Location
Église Notre-Dame-de-la-Paix Church, 87, avenue Murphy Avenue, Moncton
Requested Charity
Fonds de bourses universitaires Fernand, Ghislaine et Jean-Pierre Arsenault
Send A Condolence
Print Obituary
Ghislaine (Rosilda) Cormier-Arsenault, 86, of Faubourg du Mascaret in Moncton and formerly of Cap-Pelé, passed away on Monday January 9, 2023 at the Dr. Georges-L.-Dumont UHC.
Born in Petit-Rocher, she was the daughter of Joseph Cormier and Joanna Arseneau. Beloved spouse of Fernand Arsenault, she was predeceased in the fullness of life by her son Jean-Pierre Emmanuel.
She was predeceased by two sisters and three brothers: Cécile (late Lionel), infant Edna, Euclide (Aline), Albénie (late Florence), Vernon (late Lucille). She is survived by her other sisters and brothers: Lina (late Arthur), Yvon (Bernadette), Alyre (Patricia), Odette (Keith), Gilbert (Sharon), Norma (late Kenneth), Jeannot (Susan), as well as many nieces, nephews, sisters-in-law and brothers-in-law.
Ghislaine was always very proud to have been a member of the Religieuses Notre-Dame du Sacré-Coeur from 1954 to 1973. She was particularly grateful to her religious order for having paid for her university studies. The goal of this religious order was to contribute to the development of the young Université de Moncton by providing two of its members with the necessary training to set up a high-quality school of nutrition and family studies. They therefore chose Ghislaine and Sister Auréa and allowed them to continue their studies up to the doctorate level. The two students had agreed that Sister Auréa would go further into the aspects related to the pure sciences of nutrition and that Ghislaine would direct her research in the sciences of family education.
Ghislaine had a great dream: to give Acadie and French Canada hundreds of graduates specializing in nutrition and family studies who would shape the values and future plans of Canadian families. While pursuing her studies in Michigan, Ghislaine prepared the draft of the bachelor's degree program in domestic science with honors in nutrition and family science education. In 1967, the New Brunswick Department of Education and the Canadian Association of Dietitians recognized the quality of the programs she had prepared. With her future colleagues, Ghislaine worked on the preparation of the construction plans for the laboratories of the ÉNEF (École de nutrition et d'études familiales).
Barely 30 years old, Ghislaine was appointed first director of this school, a position she first held for five years. Thereafter, until 1994, she accepted, from time to time, to return as acting director in order to allow her colleagues to also benefit from the advantages of a sabbatical leave or to render service to the Université in another field of responsibilities. Among its many achievements, Ghislaine's team has helped to eradicate poverty among the poorest by collaborating in many ways with Claudette Bradshaw, the great friend of poor families.
In 2019, the Université de Moncton unveiled commemorative plaques in honor of the two founders of what is now ÉSANEF (École des sciences des aliments, de nutrition et des études familiales). The plaque honoring Ghislaine is affixed near the management office in the Jacqueline-Bouchard building.
Full professor at the Université de Moncton, Ghislaine retired in 1994. She held several degrees: B.Sc.D.(Université d'Ottawa, 1963); Dt.P. (Halifax Infirmary, Internship in Dietetics, 1964); M.A. (Family Education, Michigan State University, 1965); Ph.D. (Family Education, Michigan State University, 1970).
According to one of her former students, Ghislaine was for the ÉNEF and for its students what a mother is for her children: always present, always available, eternal educator, adapting to change and wishing the best for everyone. As for Sister Auréa Cormier, she affirms that the members of the ÉNEF faculty who had the chance to team up with Ghislaine will remember her as a person who fully trusted her peers. She was always very truthful and never tolerated anything that was not in accordance with the truth. Hundreds of students will long remember the quality of her listening and understanding.
Both provincially and nationally, Ghislaine has served on numerous professional committees, including that of Études supérieures et de la recherche at the Université de Moncton. Her community involvement was mainly in the social work of the Caisses populaires and as a member of the Board of Directors of the Association francophone des aînés du Nouveau-Brunswick, without neglecting her responsibilities as mother and wife.
The family would like to thank everyone who provided care and comfort to Ghislaine during her illness. They particularly wish to acknowledge the tireless dedication and loving professionalism of Ghislaine's niece, Shirley Schut, a retired nurse, who spent countless hours caring for her dear aunt until she drew her last breath.
By request, there will be no visitation at the funeral home. The funeral mass will be celebrated on Friday January 20 at 10:30 am in Notre-Dame-de-la-Paix Church, 87 Murphy Avenue, Moncton. At the request of the family, face coverings are strongly recommended. The funeral mass will be videotaped, and the video will be available on her obituary on our Website at the end of the day. In memory of Ghislaine, a contribution to the Fonds de bourses universitaires Fernand, Ghislaine et Jean-Pierre Arsenault (tel.:506 858-4130 or 1 888 362-1144) or to a charity of the donor's choice would be appreciated. Funeral arrangements are in the professional care of Frenette Funeral and Cremation Centre, Moncton (858-1900).
Words of comfort and donations may be made at www.frenettefuneralhome.com