Jacques ''Chuck'' Lavoie
1934 - 2023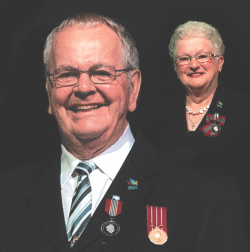 Visitation Information
Visitation
No visitation / Pas de visites
Service Information
Service Time
No funeral service / Pas de funérailles
Requested Charity
Heart & Stroke, Lung, Friends of the Moncton Hospital, CNIB, Albert House Hospice or Choice
Make A Donation
Send A Condolence
Print Obituary
Share
Jacques "Chuck" Jean Marie Lavoie, 88, of Moncton, passed away at The Moncton City Hospital on Friday January 06, 2023, after a long and courageous battle of ill health. Born in Campbellton, N.B., he was the son of the late Irenee "Rene" and Maria (nee Roy) Lavoie.
Chuck served in the Canadian Armed Forces for 21 years and was ranked as a Master Corporal in the Royal Canadian Air Force. He was in sales for the balance of his working years as a sales agent with his wife, Norma Jeanne Lavoie. They travelled for their own Sales Agency for over 40 years. He lived his life as a very kind gentleman and loving husband and great friend. He always had a huge smile.
Chuck was very involved in politics with his wife aIways by his side. They both served on the Board of Directors for a former local politician. They also were both on the Board of Directors for the SENB #60 Branch of the National Association of Federal Retirees. He was a member of the Royal Canadian Legion Branch #6 in Moncton as well as a member of the Dieppe Military Veterans Association. Chuck and his wife were recipients of the Governor General's "Volunteerism" Award in 2017. He was a life long member of the Air Force Association of Canada.
He is survived by his ever loving wife and soul-mate, Norma Jeanne (nee MacDougall-Denton) Lavoie; sister-in-Iaw, Valerie Todd (Jim Melnyk) of Riverview; daughter-in-law, Mariam Denton (late Sean Noel Denton) of Antigonish, N.S.; nephew, Todd Somerville (Candace) and great-niece, Sadie Vivian of Dartmouth, N.S.; and many loving nieces and nephews; and so many very good friends and relatives far and wide; wonderful neighbours and especially the Birthday Club members.
Chuck was predeceased by his four brothers: Rudy (Bernice) of Moncton, Roland and his wife Jeannine of Campbellton, Maurice and his wife Lynn of Rivière-du-Loup, Qué., and Pierre and his wife Ruth of Pincourt, Qué.; step-son, Sean Noel Denton (Mariam); great-nephew, Samuel Hardy Somerville of Dartmouth, N.S.; mother-in-law, Vivian Somerville and father-in-law, Sterling Somerville of Saint John, N.B. and brother-in-law, Kenneth Somerville (Debby) of Saint John, N.B.
We want to thank the Staff of the Trauma Unit & ICU & Palliative Care Unit of The Moncton Hospital; family physician, Dr. Bertin Mallet; respirologist, Dr. Anna Sanderson; Dr. Jacques Albert, Trauma Unit; Dr. Mohammed, and Dr. Dodge of the ICU Unit; nurses and staff of the Palliative Care Unit; surgeon, Dr. Andre Poirier; rheumatologist, Dr. Leo Picard; Extra Mural and all the nurses and staff of The Moncton Hospital.
To respect Jacques' (Chuck's) wishes, there will be no funeral or Celebration of Life. Cremation has taken place and a private burial will occur in the Spring. In memory of Chuck, contributions to the Heart and Stroke Foundation, Lung Association, Friends of the Moncton Hospital Foundation, CNIB, Albert House Hospice or a charity of the donor's choice would be appreciated. Funeral arrangements are in the professional care of Frenette Funeral and Cremation Centre, Moncton (858-1900).
Words of comfort and donations may be made at www.frenettefuneralhome.com