Peggy Ouellette
1953 - 2022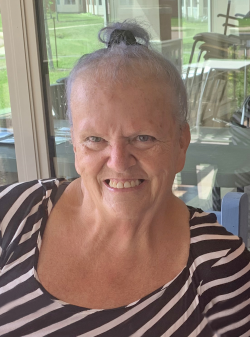 Visitation Information
Visitation
No visitation / Pas de visites
Service Information
Service Time
No funeral service / Pas de funérailles
Requested Charity
Choice / Choix
Send A Condolence
Print Obituary
Share
Peggy (Caron) Ouellette, 69, of Moncton, passed away unexpectedly on Saturday, December 31, 2022, at her home.
Wife and best friend of Gérard Ouellette, who passed away in March 2022. They were each other's soulmates, and life was not the same without him. She also lost her beloved sister Jean in January 2022. Grief is a heavy burden, especially for someone with such a big heart.
Mom to Courtney (Glen) Julie (Jean-Francois) and Kelly (Lance), she was always there to support and encourage them, and show unconditional love. It was a mystery how Peggy remained 42 even when her eldest daughter passed her in age… She kept informed on what was happening in the world, loved to watch historical dramas on Netflix, and was faster than the weather network in announcing storms.
Peggy was very involved in the communities of Clair and Saint-François-de-Madawaska, where she and Gérard raised their three girls. Peggy volunteered at the library, at the church, with majorettes and with the Air Cadets, and also taught English and was a substitute teacher at the school. She made her daughters' majorette and Halloween costumes. When her youngest daughter started grade 1, Peggy went to university and completed a bachelor's degree in education, and later became a licenced social worker. She served families in the Fort Kent region, and later became Director of Social Work at Forest Hill Manor. Her colleagues always appreciated her hard work, dedication and sense of humour, and her family was very proud of her accomplishments.
Friends and family members will remember Peggy and Gérard's welcoming home, and the many gatherings and celebrations held there. There was always food, laughter and someone cheating at cards.
When Peggy and Gérard moved to Moncton, they got involved in the community again, through the church and as volunteers at the hospital. Peggy made friends quickly with her broad smile and approachability. Moving to Moncton also brought them closer to their grandsons Trey and Gavin, who they got to spend lots of quality time with as they were growing up. They will miss their mémère. Peggy will also be missed by her grandsons Elvis and Léo, who she loved so much and was so proud of. She also leaves in morning several nephews and nieces, as well as great nephews and great nieces that she held close to her heart.
Peggy grew up in Fort Kent, ME in a family of six girls. Her father (Lévite Caron) passed away when she was 10, and the sisters all supported each other and their mom Frances through that difficult time. Her sisters Jane Charette, Lorette Clark, Brenda Michaud and Jean Voisine have since passed on. She will be missed by her sister Gail Caron (Mike) of Connecticut, who she called every week to talk about the good old days. They hoped to see each other in person soon.
In accordance to her wishes, there will be no visitation and no funeral service. In lieu of flowers, the family encourages donations in Peggy's memory to the charity of your choice.
Funeral arrangements are in the professional care of Frenette Funeral and Cremation Centre, Moncton (858-1900).
Words of comfort and donations may be made at www.frenettefuneralhome.com