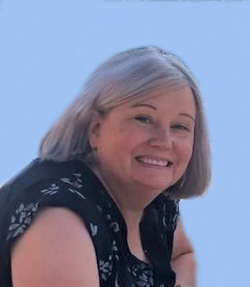 Visitation Information
Visitation
Pas d'exposition / No visitation
Service Information
Service Location
pas de service funéraire / no funeral services
Send A Condolence
Print Obituary
It is with deep and profound sadness that the family of Nicole "Nicky" Simon announces her passing on Thursday, October 27, 2022, at the young age of 51, following her courageous battle with leukemia. Born in Moncton, she was the daughter of Paul (Sharon) Simon of Shediac and the late Sue Rodgers.
Nicky started working after college with Respite Care Services and Family Support Services (Moncton Volunteer Center) before beginning her career as a medical receptionist for various health care providers. She was most recently employed with the Beausejour Family Crisis Resource Centre in Shediac.
Besides Paul and Sharon, she is survived by her greatest joy, her son Alex, whom she adored more than life itself. They enjoyed spending time together going for drives, taking overnight trips and stopping along the way to enjoy a treat or two. Nicky loved watching Alex play hockey and would look forward to the "away tournaments" his team was playing in. Everything she did had Alex as her top priority - her devotion was only surpassed by her love for him.
Also mourning her passing are Alex's father, Rocky Price; her uncle Roger Simon (Laurie) of Cap aux Meules, Iles de la Madeleine, QC; her godmother and great aunt Yvette Landry of Shediac; her half-sister Stacy Simon (Chris) of Moncton; her half-brother Steve Rodgers (Toni) of Ontario; her step sisters Renée Boucher of Moncton and Michelle LeBlanc (Marc) of Dieppe; and several cousins whom she thought the world of: Huguette Poirier, Liane Landry, Liette Ouellette, Marc Simon, Phillip Simon and Yves Simon. She will be greatly missed by her fur babies Rosy, Sophy and Ozzy. She also leaves to mourn special family friend, Brenda Wright.
In addition to her mother, she was predeceased by her infant daughter Kayla Hendrickson, her grandmother Corinne "Mim" and grandfather René "Pip" who helped raise her, her uncle Donald "Boy" Simon, her great aunt Germaine Poirier and her great uncles Gerard Hebert, Emile Hebert, Ronald "Buck" Hebert and Antoine "Tony" Landry.
Nicky loved life and enjoyed spending time with her family and friends. She was excited to try out new dishes and recipes and would often surprise the family with "something new" during gatherings. She loved nothing better than a good game of cards, and it's pretty safe to assume that she is playing 200's or "embarque que'j t'emporte" with Mim, Pip, Boy, Tony and Emile right now – and making sure those boys didn't cheat... She was an avid animal lover and fierce advocate who helped whenever she could.
A special thank you goes out to her Oncology team, including but not limited to Dr. St-Hilaire and all the staff at 4D and 3C at the Dr. Georges L. Dumont University Hospital Centre.
By request, there will be no visitation or funeral services – the immediate family will be having a private ceremony followed by a Celebration of Life. In memory of Nicky, and in lieu of flowers, a blood donation would be greatly appreciated. If this is not possible, then a donation to the People for Animal Wellbeing (former SPCA) would also be appreciated.
Cremation and funeral arrangements are in the professional care of Frenette Funeral and Cremation Centre, Shediac (532-3297).
Words of comfort and online condolences may be forwarded through our website at: www.frenettefuneralhome.com