Frances Kelley
1935 - 2022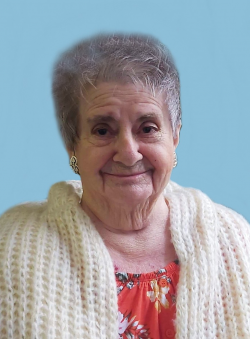 Service Information
Service Date
Saturday, July 30, 2022
Service Location
Our Lady of Mercy R.C. Church, 11 Andrews Road, Pointe-du-Chêne NB
Requested Charity
Choix / Choice
Send A Condolence
Print Obituary
Share
We are very sad to announce the passing of Frances Mignon Kelley (Cratte) of Pointe-du-Chêne, NB, on July 24th, 2022, at the age of 87. She was the daughter of the late Frederick Walter and Elva (Cain) Cratte.
Frances was a very caring person who was always willing to help out others. She was very proud to have been able to care for many foster children over the years.
During her youth, she worked for the Royal Canadian Air Force as a nursing assistant, always wanting to help others. She eventually moved to Pointe-du-Chêne where she loved the beach, the people, and the community organizations. She joined the Catholic Women's Organization where she helped out even if she was not catholic. She eventually attended the RCIA sessions and joined the Our Lady of Mercy church as a very active member up until the very end. She had a special attachment to Fr Laurence Quin-Morris who accompanied her journey to become a catholic. Her only outing from the hospital was to bid him farewell last week. She worked very hard for the Pointe-du-Chêne community Center and served as the Vice President until her last day. She also believed in the quest for a cleaner environment and was an active member of the Shediac Bay Watershed Association. She had also served as a member of the Local LSD Board.
Her love of her family, her friends and her community were carried over to her last months at HGD Hospital where she met many friends, her social worker, Louise Boissonnault who was always referred to as Thelma, and her occupational therapist, who helped her to walk again.
The family wishes to thank all the hospital staff for their care, and compassion, to the friends for their calls and cards and to all who supported Frances and the family.
She is survived by her children: Drew Kelley and Bethaney Kelley (Yan Adams); a brother, Merville Cratte (Althea); three stepdaughters: Tanya Kelley, Crystal Benett and Mary-Jo Worden; three grandchildren: Mathew Kelley, Michael Kelley, and Breanna Bond, as well as many nieces and nephews.
Besides her parents, she is predeceased by her beloved grandson, Brandon Kelley.
There will be no visitation at the funeral centre. The funeral mass will be celebrated on Saturday, July 30, 2022, at 11:00 am at the Our Lady of Mercy R. C. Church, 11 Andrews Road, Pointe-du-Chêne, NB. In memory of Frances, a contribution to the donor's choice would be appreciated.
Funeral arrangements are in the professional care of Frenette Funeral and Cremation Centre, Shediac (506-532-3297).
Words of comfort and donations may be made at