Alvin J. Gowan
1953 - 2022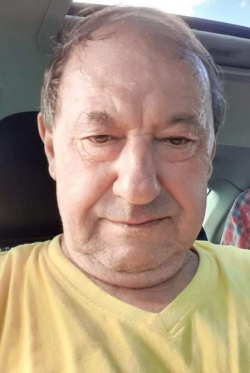 Service Information
Service Location
À une date ultérieure / At a later date
Requested Charity
Heart & Stroke Foundation or CHU Dumont Foundation
Make A Donation
Send A Condolence
Print Obituary
Share
It is with profound sadness that we announce the passing of Alvin J Gowan on January 5, 2022 at his residence in Moncton, New Brunswick. Born on November 10, 1953 in St. Stephen, New Brunswick, the son of Carol (née Johnson) and the late John Gowan of Waweig, New Brunswick.
Along with his mother, he is survived by his common-law spouse Paulette Stevenson, his son Jason Gowan (Paula) of St. Stephen, New Brunswick, and grandsons Tyson and Ryan. Alvin is also survived by siblings, Rodney (Elaine) Gowan of St. George, Carson (Myrna Kinney) of St. Stephen, Susan Henderson (Kenneth. F.) of Saint John, Kim Hicks (Tony) of Upper Waweig, Karen Lee of St. Stephen. As well as several nieces, nephews, great-nieces and great-nephews.
Alvin was predeceased by his father John Gowan, sister Donna as well as brother-in-law Kenneth. F Henderson.
Above all, Alvin enjoyed being on the road. He successfully combined his passion for travelling with his employment in the field of transportation, where he spent many years seeing much of Canada and the United States. He traveled over 5 million miles without an accident. Alvin was most happy to reconnect with his son Jason, wife Paula and his grandsons Tyson and Ryan. Alvin, a kind and gentle soul was fortunate to have met Paulette, who not only was a huge blessing to him, but also to the whole family. Paulette shared his love of adventure, could always make him laugh and made him feel truly loved. For this, our family will always be thankful.
As per Alvin's wishes there will be no visitation or funeral service. There will be a private family gathering at a later date. In memory of Alvin, donations would be greatly appreciated to the Heart and Stroke Foundation, CHU Dumont Foundation or a charity of the donor's choice. Funeral arrangements are in the professional care of Frenette Funeral and Cremation Centre, Moncton New Brunswick.
Words of comfort may be made at www.frenettefuneralhome.com