Bernice Daigle
1937 - 2021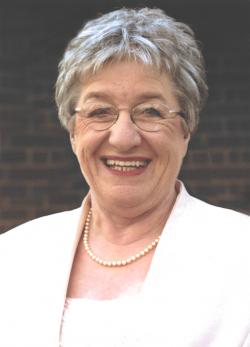 Burial Information
Burial Location
Lincoln, N.B.
Requested Charity
Fondation CHU Dumont Foundation (oncologie)
Make A Donation
Send A Condolence
Print Obituary
Share
Bernice Daigle, 83, of Moncton and formerly of Fredericton, passed away on Monday June 7, 2021 at the Dr. Georges-L.-Dumont UHC. Wife of the late Guy Daigle, she was the daughter of the late Gérard and Rita (Arseneault) Maillet of Sainte-Anne-de-Kent.
She had a teacher's degree and later joined the provincial civil service as a translator and interpreter. Bernice lived in Fredericton for over 50 years. An active woman and committed to the francophone community, she served on several community committees and with the parish of Sainte-Anne-des-Pays-Bas. Since her retirement, she has been a member of the Société des enseignants retraités francophones de la Capitale. Very generous and full of talent, Bernice was always ready to help the people around her. Her family and friends were her priority. She will be dearly missed by all of us.
She is survived and will be sadly missed by her daughter Joanne (Thomas Gimblett) of Surrey, B.C., her son Jacques of Woodstock, N.B.; her granddaughter Jacqueline Forbes (Kerrod) of Calgary, Alta.; her sisters: Carmen Richard (Normand) of Ayer, Mass., Marielle Bouchard (late Normand) of Dieppe, Cécile Scott (Richard) of Bridgewater, N.S., Aline Arsenault (Donald) of Moncton; her brother, Guy (Bernice) of Moncton; her sister-in-law, Claudette Maillet of Moncton; her brother-in-law, Gilles Godbout of Grand Falls; as well as several nieces, nephews and friends.
Besides her parents and husband, she was predeceased by one sister, Ginette, and two brothers: Omer and Laurie.
In accordance to her wishes, there will be no visitation and no funeral service. Interment will be in Lincoln, N.B. In memory of Bernice, a contribution to the CHU Dumont Foundation (oncology) would be appreciated. Funeral arrangements are in the professional care of Frenette Funeral and Cremation Centre, Moncton (858-1900).
Words of comfort and donations may be made at www.frenettefuneralhome.com