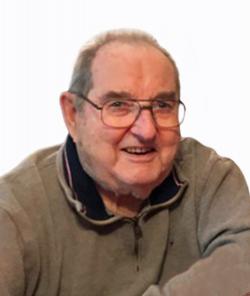 Make A Donation
Send A Condolence
Print Obituary
Share
With great sadness, we announce the passing of Joseph Garnet Cecil Gould on May 31, 2021 in his home in Lower Coverdale, NB, surrounded by his family and pets. He was a loving husband, father, grandfather, brother, and uncle. He was kind, strong, and a great storyteller. His presence will be greatly missed.
Born in Leger Corner, now Dieppe, NB, he was the youngest son of Barney Joseph and Daisy Agnes (nee Forsythe) Gould. He grew up in Moncton, raised a family in Riverview and took up final residence in Lower Coverdale, NB.
Garnet worked hard his whole life. A mason by trade, he helped build many landmark churches, schools, and hospitals throughout NB. He was self employed as owner of Garnet's Masonry which he ran with his wife. One of his proudest jobs was building a homestead in Lower Coverdale in 1986 with his wife. His home is a testament to the man he was. Strong, warm, welcoming, and built to last.
He was always building something. He loved to tinker around the yard and get creative with wood and metal. He made many masterpieces that the family will cherish forever. Garnet built a one-of-a-kind cottage on the Little Bouctouche River with his wife. He loved to take his motorboat out into the Northumberland Straight for a sail. He loved the shore and had a special connection with the Bouctouche Bay, the Bay of Fundy and Advocate Harbour, NS, where he'd spend time with his family having picnics. He always had a bottle of ketchup in the car and shared his food with the seagulls, crows, and squirrels. He truly was a kind and gentle man. Everyone loved him.
Garnet is predeceased by his wife of 55 years, Margaret Elizabeth (nee Thompson). Their love was special, especially in the later years of their marriage when they looked after each other in a way that was inspiring. He is also predeceased by his brothers Donald, Jack, and Valerie, and sisters Lorette, Hazel, and Jean. The last surviving sibling is the eldest, Doris Boudreau of Moncton.
He will be lovingly remembered by his two children Kathlene Tozer (spouse Darryl Tozer) of Lower Coverdale, and Kenneth Gould (spouse Sherry Lynn Gould (nee Hare)) of Riverview. He will especially be missed by his two grandchildren, Maegan Tozer and Mason Tozer. He also has many nieces and nephews, cousins, and of course his two cats, Ruby and Tippy.
His interment will be decided in time and he will be laid to rest with Margaret. As per his wishes, we will celebrate his life privately. Messages and memories are always appreciated. In lieu of flowers, a donation can be made to any animal rescue centre in his name.
We love you dad, rest in peace.
Funeral arrangements are in the professional care of Frenette Funeral and Cremation Centre, Moncton (858-1900).
Words of comfort and donations may be made at www.frenettefuneralhome.com