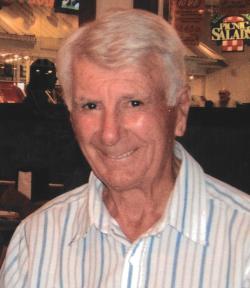 Requested Charity
Canadian Cancer Society
Make A Donation
Send A Condolence
Print Obituary
Share
Jean Foubert, 93, of Moncton, passed away on Tuesday May 18, 2021 at the Dr. Georges-L.-Dumont UHC. Born in Couptrain in France, he was the son of the late Benjamin Lucien Foubert and Madeleine Anna Dortée.
Prior to his retirement, Jean had worked for Peugeot Canada in Pointe-Claire and the SAAQ with the government of Québec.
He is survived by his wife for 50 years, Marie-Paule DeGrâce; his family members in France and in Germany, his wife's family in N.B., as well as many friends.
Besides his parents, he was predeceased by his sister Yvette, and his brother Pierre.
In accordance to his wishes, there will be no visitation and no funeral service. In memory of Jean, a contribution to the Cancer Society would be appreciated. Funeral arrangements are in the professional care of Frenette Funeral and Cremation Centre, Moncton (858-1900).
Words of comfort and donations may be made at www.frenettefuneralhome.com