Juliette Léger
1940 - 2021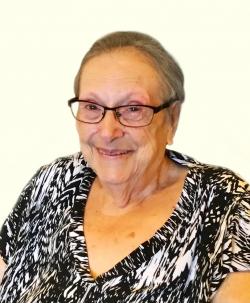 Service Information
Service Date
Thursday, April 15, 2021
Print Obituary
Share
Juliette Léger, 80, of the Villa Providence in Shediac, formerly of Cormier-Village, passed away on Sunday April 11, 2021. Born in St. André, NB, she was the daughter of the late Léandre and Bella (Landry) Vienneau.
She will be greatly missed by her sons, Francis (Eva Linda) of Riverview and Brian (Doris) of Shediac; her siblings: Omer (Laura), Laurie (Shirley) and Francis (Angela) all of St. André-LeBlanc and Phyllis LeBlanc (Émile) of Haute-Aboujagane; her sister-in-law, Julie Vienneau of St. André-LeBlanc; four grandchildren; two grand-grandchildren, as well as several nieces and nephews.
Besides her parents, she was predeceased by her husband, Albert Léger, and a brother, Lionel.
A big special thank you to the nurses and employees of Villa Providence for their excellent care that Juliette received. We are incredibly grateful.
A private chapel service will be held at Frenette Funeral and Cremation Centre, 396 Main Street, Shediac. The funeral service will be streamed live on her obituary on our website www.frenettefuneralhome.com on Thursday April 15, 2021 at 2 pm.
In memory of Juliette, a contribution to the Vestiaire St. Joseph, the CHU Dumont Foundation or a charity of the donor's choice would be appreciated.
Cremation and funeral arrangements are in the professional care of the Frenette Funeral and Cremation Center, 396 Main Street, Shediac (532-3297).
Online words of comfort and condolence can be sent on our website at: www.salonfrenette.com